Not far from Aurangabad District of Maharashtra state in western India lies one of the most majestic Ancient Hindu Temples, the Kailasa temple.
Part of the Ellora Caves, which consists of a set of 34 in total monasteries and temples, this exceptional architectural structure stands tall for 12 centuries.
This grandiose temple of 7 meters height was built in the 8th century (between 757 and 783 BCE), during the reign of King Krishna I of the Rashtrakuta dynasty, which ruled a great part of India from the 6th to the 10th century. The Kailasa temple was named after Kailashnath, its main deity (meaning "the Lord of Kailash") and it was dedicated to the Hindu god Shiva.
The temple is oriented towards Mount Kailash, where, according to Hinduism, Shiva resides. As in all temples dedicated to Lord Shiva, bull Nandi is depicted in front of the main sanctum sanctorum. Elephants are also carved in its base. This amazing construction encloses pillars, windows, inner and outer rooms, and halls.
In the sanctum sanctorum, the visitor can admire the images of several deities, erotic male and female figures: those at the left of the entrance are considered to be followers of Lord Shiva while those at the right side of the entrance are the followers of another Hinduistic deity, Lord Vishnu.
The Kailasa temple is an exceptional example of Dravidian architecture. This architectural idiom mainly consists of pyramid-shaped towers, made in proportions of exceptional accuracy. The majority of Dravidian architecture constructions are located in the states of Southern as well as North India.
One thing is for sure: it wasn't easy to build this imposing monument. It took 20 years for this monolithic construction to be built. About 400,000 tons of rocks were scooped out and its stone walls were carved in levels with extreme precision and devotion by the local craftsmen.
Archaeologists support that it was constructed from the top down. From the U-shaped courtyard, one can admire the massive monolithic pillars and the fascinating large sculptures of many deities that depict scenes from stories about the saga of Lord Shiva.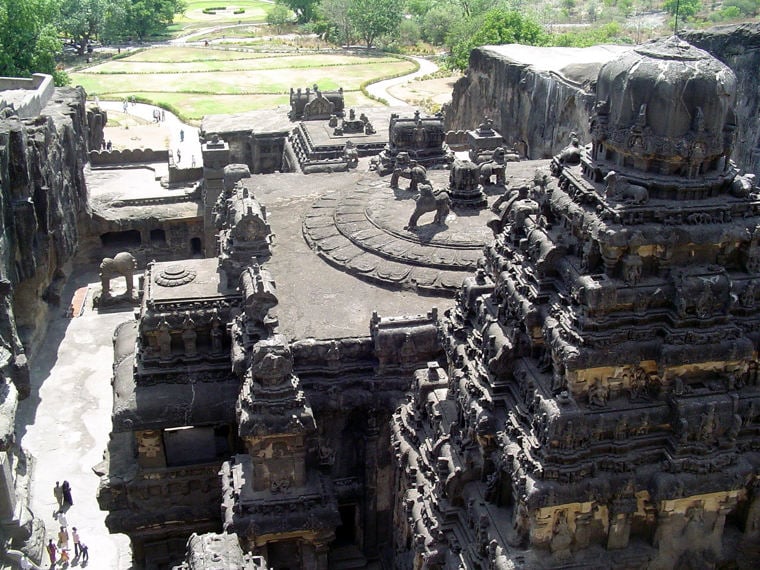 The Kailasa temple with its complex is one of the world's greatest monuments that is definitely worth visiting. Carved in solid rock with remarkable attention to detail, this immense architectural marvel makes thousands of tourists stand in awe in front of it.
References:
Copyright © 2012-2023 Learning Mind. All rights reserved. For permission to reprint, contact us.