By all accounts, budding author Barbara Newhall Follett was destined for an exciting career in the literary world. After all, she published her first novel at the age of 12. And this was no one-off.
At 14, her second novel received critical acclaim. But Barbara did not see the fame and fortune she deserved. She disappeared when she was 25 years old, never to be seen again. Was she killed by someone close to her, or had she simply had enough of public scrutiny and disappeared on purpose? What did happen to Barbara?
Barbara Newhall Follett: The child prodigy with incredible talent
Barbara Newhall Follett was born in Hanover, New Hampshire, on 4th March 1914. From an early age, she was fascinated by nature, but Barbara was destined to write. Her father, Wilson Follett, was a university lecturer, literary editor and critic. Her mother was the esteemed children's author Helen Thomas Follett.
Perhaps it was only natural that Barbara followed in her parents' footsteps. But there is no suggestion of nepotism here. Barbara had a unique talent and a quirky nature that set her apart from her parents and, indeed, her peers.
Barbara was home-schooled by her mother and loved being outdoors and surrounded by nature. As a young child, she was naturally curious and gifted in making up stories. When she was 7, she invented an imaginary world called 'Farksolia' complete with its own language 'Farksoo'.
Her parents encouraged her writing and gave her a typewriter. Barbara had written poems before, but now she embarked on her first novel, 'The Adventures of Eepersip', as a present for her mother. It was 1923, and she was just 8 years old.
Barbara Newhall Follett is hailed as a child prodigy
Unfortunately, the manuscript burned in a house fire. Barbara's tale of the young Eepersip; the girl who runs away from her home to live with nature, befriending animals along the way was lost forever. In 1924, Barbara began rewriting the whole story from memory, cementing her status as a child prodigy.
Her father, already in the literary editing industry, put the book forward for publishing. Now renamed 'The House Without Windows', Barbara Newhall Follett had become a published author in 1927, at the young age of 12. It was favourably reviewed by the New York Times and other publications. But it was her father's praise that Barbara revelled in.
Barbara's celebrity status was on the rise. She was invited onto radio shows and asked to review books by children's authors.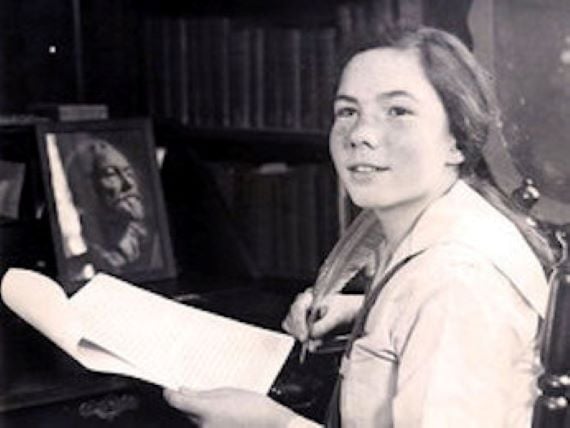 Barbara was fascinated with nature, but she was also enamoured with the sea. She had befriended the captain of a lumbering schooner, the Frederick H, moored in the New Haven harbour. In 1927, at the age of 14, Barbara persuaded her parents to allow her to sail on the schooner for ten days. Her parents agreed, but she had to have a chaperone.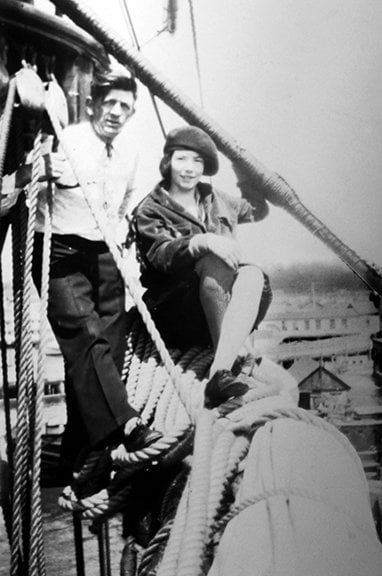 When she returned, she immediately started work on her second novel – 'The Voyage of the Norman D'. In 1928, her father had a hand in securing the publishing rights of his daughter's novel. This time the praise came, not just from her father, but from the literary world. Barbara was becoming a star in this coveted industry. However, her happiness was short-lived.
Barbara's family life falls apart
Barbara had always enjoyed a special relationship with the father she named 'dear daddy dog', but unbeknownst to her, he had been having an affair with another woman. In 1928, he eventually left his wife to live with his mistress. Barbara pleaded with him to return home, but he never did.
Barbara was devastated. Her world had fallen apart. Her father had not only abandoned her and her mother, but he also refused to pay any support, leaving Barbara and her mother penniless.
Forced to leave the family home and live in a small New York apartment at 16, Barbara went to work as a secretary. However, this was the beginning of the Great Depression. Wages were low and jobs scarce, but it was her father's rejection that hurt Barbara the most.
To get away from the gloom and depression of New York, Barbara talked her mother into joining her on a sea cruise to Barbados. Publishers Harper & Brothers would print Barbara's recollections of sea life on her return.

But although Barbara had instigated the adventure, her father's rejection began to sink in. Her mother was so worried she wrote to her best friend:
"Barbara has gone to pieces. Her writing job is not anywhere near finished. She has lost interest in things, in living, in writing. She says, herself, that she is "homesick." She is in critical condition, and likely to do anything from running away to suicide." Helen Follett

On their return, Barbara went off to California where she enrolled at Pasadena Junior College, but she hated it so much she ran away to San Francisco where she booked a hotel room under the name of K. Andrews. She was found after a tip-off, and when the police entered her room, she tried to jump out of the window. Details of her exploits made the national newspapers with headlines such as:
Girl Writer Tries Suicide to Cheat Law

and

Girl Novelist Ran Away to Avoid School
The authorities didn't know what to do with Barbara, but eventually, family friends offered to take her in.
Barbara gets married
In 1931, Barbara met Nickerson Rogers, a man she would go on to marry 3 years later. Rogers shared Barbara's love of nature and the outdoors. This was something that connected them and they spent one summer backpacking through Europe. They ended up walking the Appalachian Trail to the Massachusetts border.
Once settled in Brookline, Massachusetts, Barbara began writing again. She completed two more books, 'Lost Island' and 'Travels without a Donkey', the latter based on her experience.
To outsiders and family members, it appeared that Barbara had found her 'happy ever after' after all. But things were not as they seemed.
Barbara suspected her husband of cheating on her. She began to confide in friends, but to Barbara, this was an especially deep betrayal. After all, she had never forgiven her father for committing adultery. Barbara grew depressed and stopped writing. For her, the idea of her husband being with another woman felt like an old wound ripping open.
The disappearance of Barbara Newhall Follett
On 7th December 1937, Barbara had an argument with Rogers and stormed out of their apartment. She left with a notebook for writing, $30 and never came back. She was just 25.
Rogers eventually filed a missing person's report with the police two weeks later. When asked why he delayed for so long, he replied he was hoping that she would return. This is not the only inconsistency with Rogers. He filed the report under Barbara's married name of Rogers.
Subsequently, no one connected the missing person with the famed child prodigy. As a result, it would be decades before the police conducted a thorough investigation. Only in 1966 did the press pick up on the story of missing child prodigy Barbara Newhall Follett.
They conducted interviews with her estranged father who begged her to come home. Barbara's mother had long suspected Rogers in connection with her daughter's disappearance. In 1952, she wrote to Rogers:
"All of this silence on your part looks as if you had something to hide concerning Barbara's disappearance. You cannot believe that I shall sit idle during my last few years and not make whatever effort I can to find out whether Bar is alive or dead, whether, perhaps, she is in some institution suffering from amnesia or nervous breakdown." Helen Thomas Follett
Possible reasons for Barbara's disappearance?
So, what did happen to Barbara? To this day, her body has never been recovered. However, there are a few possible scenarios:
She left the apartment and came to harm by a random stranger.

Her husband killed her after they argued and he disposed of the body.

She was depressed and committed suicide after leaving the apartment.

She left of her own accord and began a new life somewhere else.
Let's go through each one.
Stranger attacks are rare and statistics show that men are more likely to be killed by a stranger than women.

Criminologists will tell you that women (1 in 4) are more likely to suffer domestic violence than men (1 in 9).

Barbara would have felt depressed and vulnerable if she knew her husband had committed adultery.

Barbara had run away before, assuming a new name so that she wouldn't be found.
Final thoughts
Perhaps only two people know what happened to Barbara Newhall Follett. What we do know is that she had a rare talent for story-telling. Who knows what she might have created if she hadn't walked out of that apartment on a cold December night? I like to think that Barbara vanished of her own accord and lived a wonderful life.
References:
**Many thanks to Stefan Cooke, Barbara's half nephew, for use of the pictures of Barbara. Copyright remains with Stefan Cooke. You can read more about Barbara Newhall Follett at his website Farksolia.**
Copyright © 2012-2023 Learning Mind. All rights reserved. For permission to reprint, contact us.