What is synchronicity?
The term synchronicity (syn = with, chronos = time) was chosen by the psychotherapist Jung to describe the simultaneous occurrence of events (or coincidences) which apparently have no clear cause, but are deeply meaningful.
Some would say that coincidences are random, but if we look carefully into our lives, we realize it is not so. Every word or sounds we hear and people we meet are merely a simple coincidence. They appear in our lives when we need them most as answers to our inner doubts or questions.
Moreover, synchronicities can be guides when we do not know what to choose or what to change in our lives. It is like someone from above hears our silent prayers and talks to us through other people, images or events. As a matter of fact, Einstein described coincidences as being "God's way of remaining unknown".
Synchronicity connects the material world to the spiritual world through symbols that are not always understood and which arise from the collective unconscious.
For example, if we'd go buy something and we encounter a neighbor we dislike, that is not a pure chance! Our spiritual guide may have wanted to tell us that our needs are not different from his own and that we should not consider ourselves better than he is.
Examples of synchronicity in your life
1) The same numbers keep showing up over and over in your life.
2) You have met someone out of the blue who talked about an event or said some sentences which in fact sounded like answers to that you have been asking yourself recently.
3) Perfect timing! Things happen for you just when you need them most.
4) Help and support appear in your life when you expect less from people you never met before.
Of course, the list of synchronicities can be endless and subjective as synchronicity is a more complex phenomenon. These are a few general examples that we all experience at a certain point in our lives. The best way to recognize your synchronicities is to "think less and feel more", listen to your intuition. By being in tune with your inner voice, you can understand the outer signs easier.
Intuition is usually validated by an external magic event. Therefore, if you seek an answer and you randomly read a sentence in a newspaper or watch a video related to your current situation, you will feel a revelation. Then you should ask yourself if that is the answer you were waiting for.
A good representation of synchronicities can be seen in the movie Winter's Tale. The movie beautifully illustrates the presence of positive and negative forces that can influence our decisions as well as the presence of symbols that can guide us to our destiny.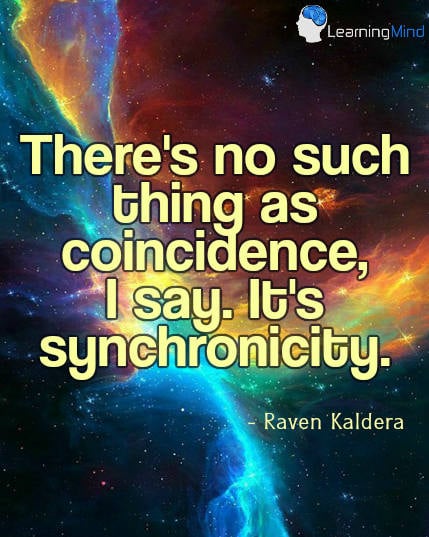 There's no such thing as coincidence, I say. It's synchronicity.
-Raven Kaldera
If you think you have experienced synchronicities which made a difference in our life, please share them with us and help other people recognize theirs.
References:
Durant, R. (2002). Synchronicity: a post‐structuralist guide to creativity and change. Journal of OrgChange Mgmt, 15(5), pp.490-501.
Hedden, B. (2016). Mental Processes and Synchronicity. Mind, 125(499), pp.873-888.
Copyright © 2012-2023 Learning Mind. All rights reserved. For permission to reprint, contact us.