If you are an avid reader, you know that a book opens the doors to a different world. Reading allows you to experience real emotions and take a glimpse into a different life through what's happening to the book characters. Our compilation of quotes about books and reading will speak to the heart of every bibliophile out there.
In case if you are not familiar with this word, by the way, bibliophile literally means 'a lover of books'. Are you one? Then you probably know what reading a good book feels like.
You completely escape reality and forget who you are. It feels as if you teleport into the pages of the book and find yourself in an alternate reality. You become a silent observer of a story that feels so real that you can experience the emotions of the book characters as if they were your own.
Another profound experience every avid reader has faced is called 'book hangover'. To the moment when you finish reading a really good book, you have formed a special bond with its characters. You have immersed yourself in the world and the life it describes.
When it's over, it feels like someone you care about dies or leaves you. It's not easy to get back to reality and you will probably need some time to let it go. The below quotes about books talk about this and other experiences every person who enjoys reading will relate to.
Enjoy our list of quotes about books and reading: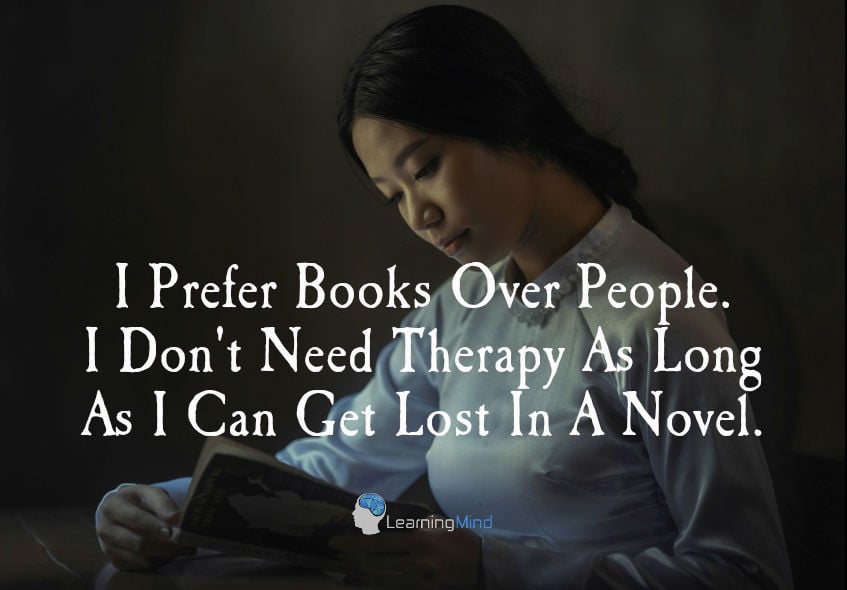 I prefer books over people. I don't need therapy as long as I can get lost in a novel.
-Unknown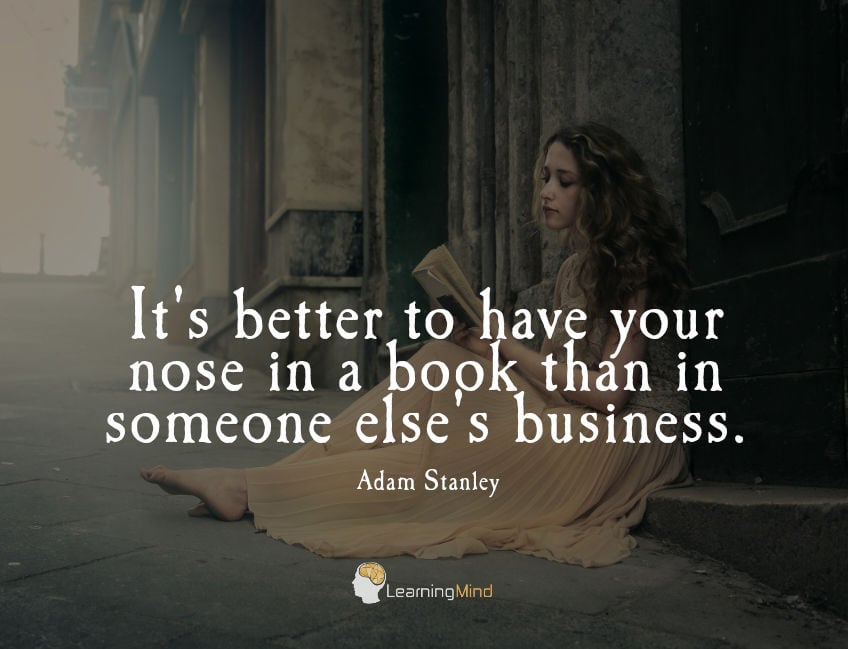 It's better to have your nose in a book than in someone else's business.
-Adam Stanley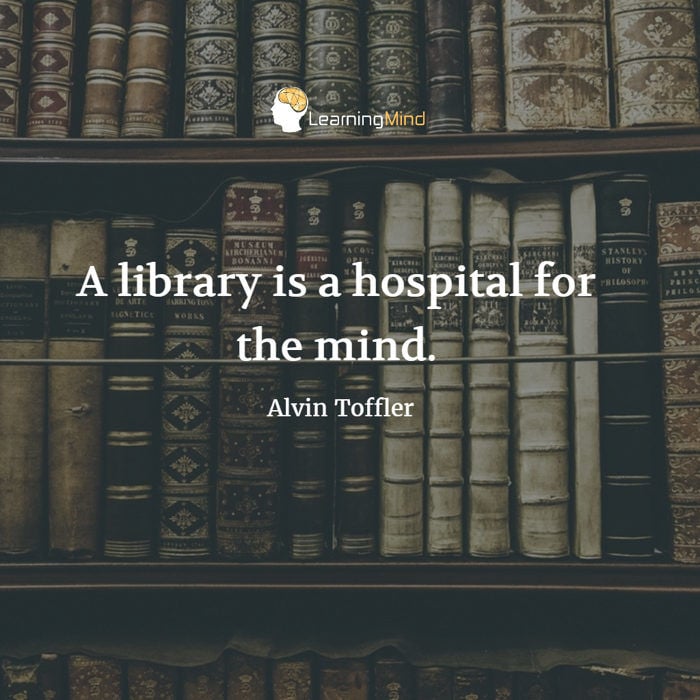 A library is a hospital for the mind.
-Alvin Toffler
Books: The only thing you can buy that makes you richer.
-Unknown
The problem with reading a good book is that you want to finish the book but you don't want to finish the book.

-Unknown
You are the books you read, the movies you watch, the people you hang out with and the conversations you engage in. Be careful what you feed your mind with.

-Unknown
Ordinary people have big TVs. Extraordinary people have big libraries.
-Robin Sharma
Books turn muggles into wizards.
-Unknown
The person you will be in 5 years is based on the books you read and the people you surround yourself with today.
–Unknown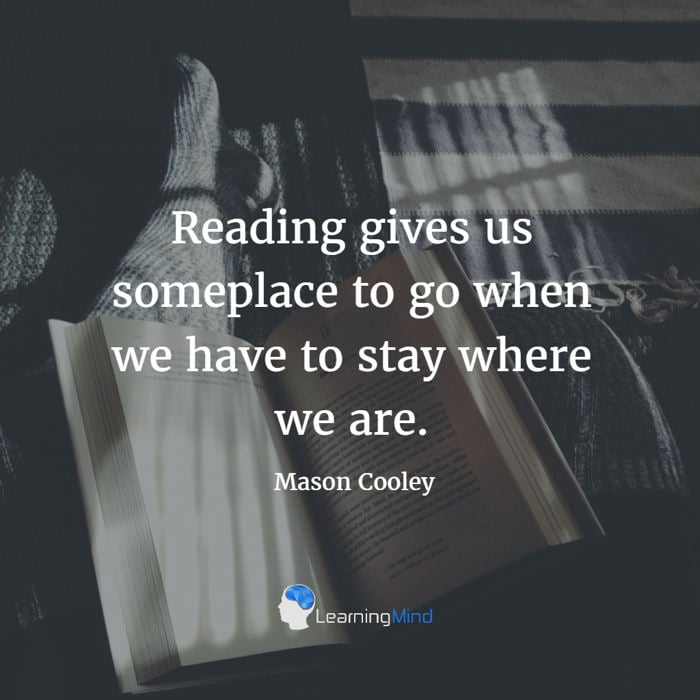 Reading gives us someplace to go when we have to stay where we are.
-Mason Cooley
Reading can seriously damage your ignorance.

-Unknown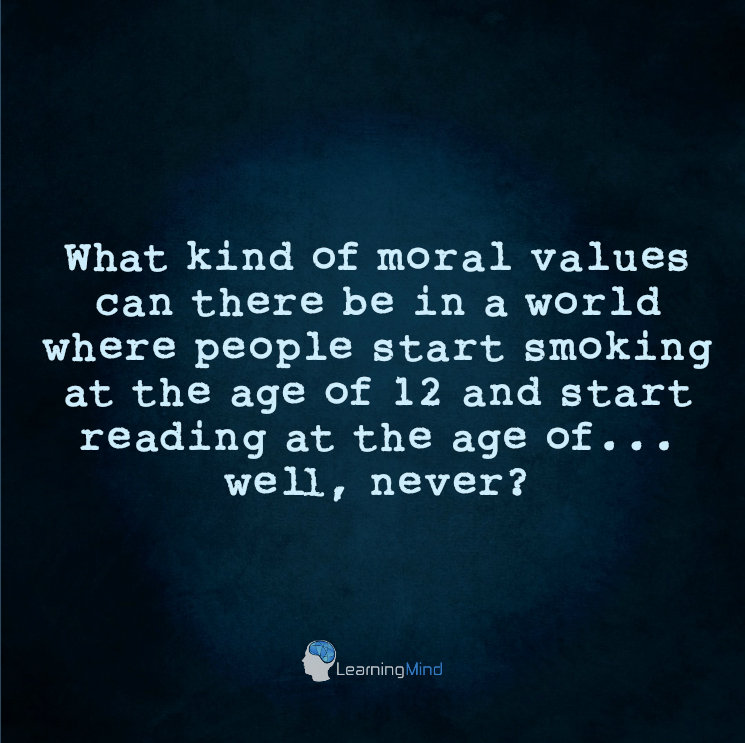 What kind of moral values can there be in a world where people start smoking at the age of 12 and start reading at the age of… well, never?

-Anna LeMind
Books have a therapeutic effect
Books don't only provide a refuge when you are bored or frustrated with reality. They make you a better and wiser person. They can also help you heal and understand yourself better. Sometimes, you strongly identify with a writer's ideas and can feel like you read about yourself.
A skillful writer can do incredible things and make a profound effect on your soul with the power of words only. It's odd, isn't it? A person you've never met and who probably lived in a different country and died long before you were born can have a deeper effect on you than some people you know and talk to every day!
This is the power of words. They persist through time and convey universal human truths. They provide comfort and understanding when we personally relate to what we are reading. Finally, the power of the written word gives us the opportunity to get to know ourselves better and make sense of life.
What are your favorite quotes about books and reading? Share them with us in the comments.
Copyright © 2012-2023 Learning Mind. All rights reserved. For permission to reprint, contact us.