What is introversion? When I asked this question the people I know, they came up with many different answers. So, I've tried to explain how it feels to be an introvert and to give my own answer to this question.
Despite the many articles on introversion, it is not always easy to explain. All the introverts I know answered this question in different ways. I have done my best to sum up the main traits of introversion and explain some of the quirks of this type of personality below.
But of course, everyone is different. If you know an introvert, I suggest you talk to them and find out what being an introvert means to them. And if you are an introvert, your experiences may be very different from mine!
Meanwhile, here's how I'd explain what introversion is to the ones I love:
1. Introversion is preferring to stay at home rather than go to a big fancy party
I am an introvert and that means I'm not that keen on big social occasions. I get a bit overwhelmed when there is too much going on. That's why you might find me sneaking outside for a breath of fresh air and some peace and quiet, or disappearing to the restroom for a moment away from the noise and chatter.
I find big groups over-stimulating. I can't focus on people in the way I like. Also, I don't enjoy social chitchat all that much – I prefer meaningful conversations and getting to know people properly.
I want to know how you feel about everything. I want to know about your childhood, your dreams, and your soul. It's impossible for me to find any of this out at a big, noisy party. So, why don't you come round to my place and we'll open a bottle of wine and have a proper conversation?
2. Introversion is the reason I never get lonely
The world is such a fascinating place, there is so much to think about and wonder, so many exciting daydreams to enjoy. There's also so much to learn from books and films. I love to soak up all these wonders, so I rarely feel lonely.
That's not to say I don't love being with you, I do. I love to spend time with the special people in my life. But I also need time to recharge my batteries and to spend a bit of time in my own head with no distractions.
3. Introversion is the reason I am so quiet
I am often quiet because I like to think before I speak. I'm not the kind of person to jump in with my opinion without thinking it through. The trouble is, by the time I have got something to say, the conversation has often moved on. That's why I am often quiet in group situations. But you don't need to worry if I am quiet.
I am perfectly happy listening to others and occasionally daydreaming. It's not that I am boring, either. I promise I do have interesting things to say. It's just that everything happens so fast these days. I just sometimes long for things to slow down.
If you really want to talk, then we should go somewhere peaceful, perhaps in nature. Then we can have a slower conversation, just me and you and perhaps one or two others who feel the same way.
4. Introversion doesn't mean I'm unfriendly, shy or anti-social.
Just because I avoid group gatherings and team-building weekends doesn't mean I am shy or anti-social. It's just not my idea of fun. I don't like the noise much, or the competition. And if I sometimes don't catch your eye when we pass at work or in the street, it's not that I don't like you, I just sometimes need to be alone with my thoughts, to process the things that are going on in my life.
Believe me, if you need me, I will be there for you. I can talk things through with you for as many hours as you want and I'll provide the ice-cream/wine/whatever you need.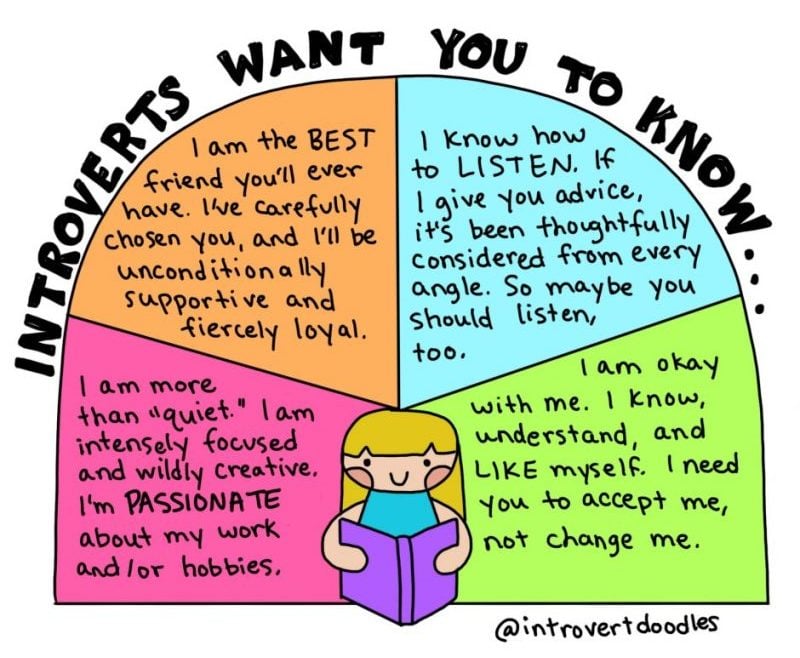 5. Being an introvert doesn't mean I don't want relationships. I really do.
I want to have good friends in my life and a special someone too. But I get that it can be difficult for extroverts to understand that my need for time alone is not a rejection of them.
I also understand that they might want me by their side at social events. I can do that too. I'll do anything for the people I love, as long as they understand that I have needs too. But that's what relationships are all about, isn't it? Accepting each other for who we are and compromising when necessary.
I love being around extroverts. Their energy excites me and it can often bring out my more sociable side, too. Together, I think we might just be the perfect match.
I hope this has helped you understand what introversion actually is. And I said before, all introverts are different. The way I experience being an introvert may be very different from the way you experience it.
So, what is your idea of introversion? We'd love to hear your comments on how it feels to be an introvert.
Images by Introvert Doodles
Latest posts by Kirstie Pursey
(see all)
Copyright © 2012-2023 Learning Mind. All rights reserved. For permission to reprint, contact us.