Is it better to be a wise person or an intelligent one? In other words, when it comes down to wisdom vs intelligence, which is more important?
Before I even explore the question, I think it helps to understand the difference between wisdom and intelligence.
"Any fool can know. The point is to understand." Albert Einstein
For example, when I think about wisdom vs intelligence, I believe that there are two kinds of people in the world, wise people and intelligent ones. My dad was a wise man. He used to say: "There's no such thing as a stupid question." My dad encouraged learning. He always made it a fun experience.
On the other hand, I had an older friend that loved to play Trivial Pursuit because it gave her a chance to show off her intelligence. If anyone got a question wrong, she'd say: "What on earth do they teach you in schools these days?"
Having said that, I had another friend who was extremely intelligent. A kind of geek genius boffin type. He got straight A grades at college and a first-class degree in Advanced Maths. He attended a birthday party at my house once and he asked if there was anything he could to help prepare the food.
I asked him to shell the hardboiled eggs for me as I was making egg mayo. He didn't know how to shell an egg. This was a maths genius.
So for me, there are clear differences between wisdom vs intelligence.
Wisdom vs Intelligence: What Is the Difference?
Intelligence is the ability to learn and acquire knowledge, such as facts and figures, and then apply this information accordingly.
Wisdom comes from experiencing life. We learn through our experiences and we use this knowledge to make decisions.
So, is one better than the other? Well, both are important at certain times in our lives. For instance, you would prefer to have an intelligent person working as a safety officer in a nuclear power plant. However, if you were receiving counselling for a mental breakdown, you might prefer a wise person.
You could describe the former as a walking encyclopaedia and the other as full of the rich tapestry of life. But of course, people are not black and white. There are highly intelligent people who are also very wise. Equally, there are people who are not intelligent but are extremely wise.
"The only true wisdom is in knowing you know nothing." Socrates
So, can an intelligent person have no wisdom?
My extremely learned friend who did not know how to shell eggs could be classed as high intelligence – low wisdom. He could solve the most difficult maths equation but struggled with everyday tasks.
But why was my intelligent friend so lacking in basic life skills? Perhaps it was because he had been sheltered by his parents from an early age. They recognised his genius and encouraged his academic learning.
He was special. He was propelled towards higher education. That was his entire focus, to hone his genius. He simply didn't have the opportunity to experience the everyday tasks we take for granted.
We should also ask, can an unintelligent person be wise?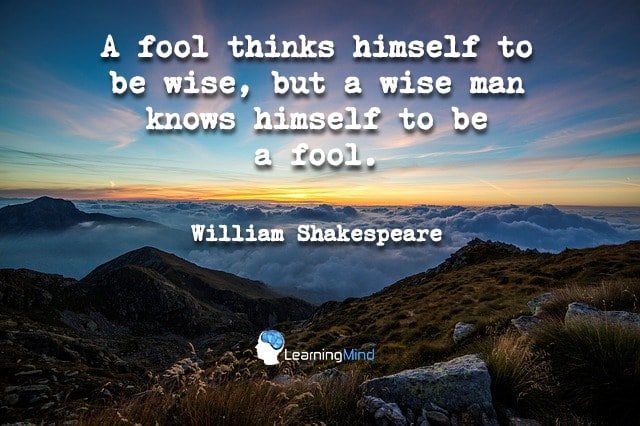 "The fool doth think he is wise, but the wise man knows himself to be a fool." William Shakespeare – As You Like It
Now, there are also very wise people who had no formal education. Take, for example, Abraham Lincoln. This US president was pretty much self-taught but went on to make the Gettysburg Address and ended slavery. Lincoln might be classed as high wisdom – low intelligence.
So is it important to be wise or intelligent?
Wisdom vs Intelligence: Which Is More Important?
Can you really have wisdom without intelligence? Some experts think not. But so far we are assuming that wisdom is virtuous and it is used in a benevolent, mentoring kind of way. However, a wise person can also be cunning, devious, crafty, and wily.
"The saddest aspect of life right now is that science gathers knowledge faster than society gathers wisdom." Isaac Asimov
Take, for example, two types of criminals; the highly intelligent psychopath and the wily old bank robber. You could say that the psychopath was intelligent and the robber was wise. But is it better to be either one of them?
We must also take into account that if wisdom is intelligence garnered through experience, then what about different cultures, religions, race, or genders? We all experience life through the prism of our own world which is predetermined by our colour and gender.
"By three methods we may learn wisdom: First, by reflection, which is noblest; second, by imitation, which is easiest; and third by experience, which is the bitterest." Confucius
How does this affect our acquisition of knowledge? Would a poor, African girl have a different kind of wisdom to an affluent male New York banker? How can the two ever be compared? And I haven't even started on mental or physical disabilities.
It is a fact that the way you are perceived by society affects how you are treated. So how does this impact our acquiring wisdom?
Balance is the key
Perhaps the key here is the balance of wisdom and intelligence but also the ability to know how to use each one. For instance, there's no point in being intelligent in a situation if you don't have to wisdom to know when it is appropriate.
"Think before you speak. Read before you think." Fran Lebowitz
Likewise, what's the point of trying to convey your wisdom when you lack the intelligence to express your knowledge?
When we talk about wisdom vs intelligence, there are other experts that believe that wisdom is intelligence coupled with emotional intelligence. The application of intelligent thought in a wise and compassionate manner, in other words.
Maybe this is the only way to be a truly intelligent and wise person. Using our intelligence, not to put down people, like my Trivial Pursuit playing friend, but to encourage them. Help others to become better people, and assist them on their own path and journey.
Final Thoughts
My own conclusion with regards to wisdom vs intelligence is that we should use our own intelligence and apply it to our own everyday experiences. By using intelligence this way, we can learn how to be wise ourselves.
What do you think? Is it better to be intelligent or wise?
References:
Copyright © 2012-2023 Learning Mind. All rights reserved. For permission to reprint, contact us.